☰
Cut Crystal Diamond
Description
Diamonds are a girl's best friend but these are dazzling for corporate awards as well! Perfect for your "diamond" sponsors and other awards with different levels. Beautiful with your corporate logo etched in the middle of all of that brilliance. Three sizes available .
Price
: Sm $12.50 / Med $20.00 / Lg $30.00
Dimensions
(in): 2-1/2" / 3-1/8" / 4"
Item #
: OCDM60 / OCDM80 / OCDM100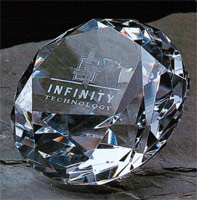 Order
Please visit the How To Order page. We do not use a cart system because we prefer to touch base with you from the start to make sure you are finding the products best suited for your needs.