☰
Horizontal Wave Award
Description
This piece is designed to accommodate your engraving needs. It can be glued in a horizontal or vertical fashion to highlight your logo and text. Deep frosted edging creates a water fall effect. Available in 3 sizes.
Price: Sm $72.00 / Med $76.00 / Lg $84.00
Dimensions (in): 5-1/2"H X 7"W X 1/2"D / 6-1/2"H X 8"W X 1/2"D / 8"H X 10"W X 1/2"D
Item #: GB248765 / GB248865 / GB2481065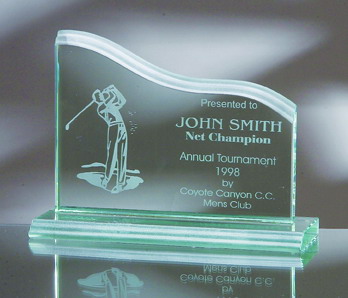 Order
Please visit the How To Order page. We do not use a cart system because we prefer to touch base with you from the start to make sure you are finding the products best suited for your needs.