☰
Durham Stemware
Description
Lead Crystal, Deep Hand Cut and Mouth Blown, the Durham Collection is unsurpassed when combining cut crystal with specialized engraving. Type in the word Durham in the keyword search to view the entire collection.
Price
: $20.00 each
Dimensions
(in): 11 oz Brandy / 7 oz Wine / 7 oz Flute / 11 oz Goblet
Item #
: DU-519 Brandy / DU-512 Wine / DU-516 Flute / DU-518 Goblet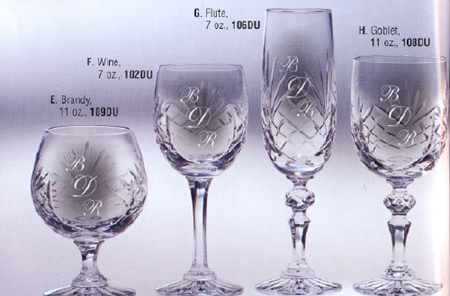 Order
Please visit the How To Order page. We do not use a cart system because we prefer to touch base with you from the start to make sure you are finding the products best suited for your needs.