☰
Sporting Ball Collection
Description
Molten glass shaped into your favorite sport. Each has room for a small amount of engraving. Reasonably priced and sure to be well received by your sport fan. All are available with a frosted finish at your request.
Price
: $15.00 each
Dimensions
(in): Approx 2-5/8" x 4"
Item #
: SB11 Basketball / SB12 Tennis Ball / SB13 Baseball / SB14 Soccer Ball / SB15 Football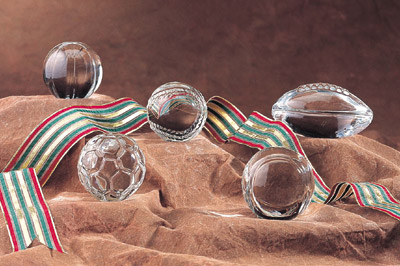 Order
Please visit the How To Order page. We do not use a cart system because we prefer to touch base with you from the start to make sure you are finding the products best suited for your needs.