☰
Triumphant Star Awards
Description
Optic Crystal is the backdrop of this gorgeous award highlighted with a splash of color, should you choose. These new star towers will certainly make the recipient feel triumphant in their achievement.
Price
: $100.00
Dimensions
(in): 9"H x 4"W x 1.5"D
Item #
: C9303 - Clear // C9304 - Blue // C9305 - Green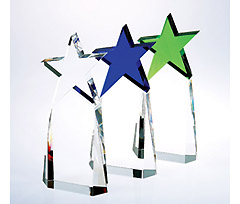 Order
Please visit the How To Order page. We do not use a cart system because we prefer to touch base with you from the start to make sure you are finding the products best suited for your needs.