☰
Barski Stemware
Description
A premium quality collection of over 24% lead crystal imported form the Czech Republic. We love all of the pieces...great sizes with classic lines. Perfect for etching monograms or logos. We are delighted to carry this beautiful line of stemware.
Price
: Balloon and Red Wine $12.00 ea // Champagne and White Wine $11.00 ea
Dimensions
(in): Balloon 8" 20 oz // Champagne 9.5" 8 oz // Red Wine 9" 20 oz // White Wine 8.75" 12 oz
Item #
: Balloon - SO-302 // Champagne - SO-304 // Red Wine - SO-301 // White Wine - SO-300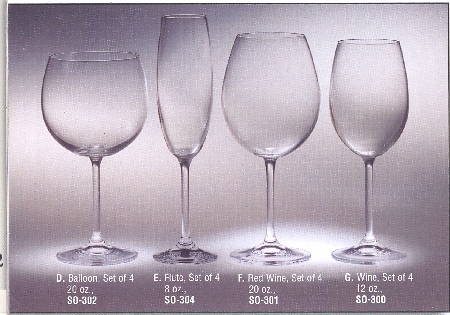 Order
Please visit the How To Order page. We do not use a cart system because we prefer to touch base with you from the start to make sure you are finding the products best suited for your needs.