☰
Meteor Star Award
Description
Reward valued employees with a timeless piece of Optical Crystal. The perfect award to showcase a star performance. Now available in Amber and Blue Crystal for the Star.
Price
: $137.50 Clear Star / $145.00 Amber / $145.00 Blue 
Dimensions
(in): 8"H x 5-1/2"W
Item #
: C366 / C366YW Amber Star / C366BL Blue Star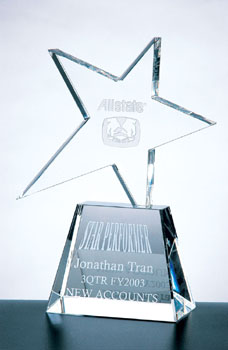 Order
Please visit the How To Order page. We do not use a cart system because we prefer to touch base with you from the start to make sure you are finding the products best suited for your needs.